In a nutshell, it's been a catastrophe. What's the one thing we should be focusing on and putting all our efforts into? Preparing for this move: packing, sorting, chucking things out, ringing utility companies, canceling subscriptions, etc etc etc. We had two completely free days this weekend (barring the never-ending baby duties), so how much did we get done? Nada. And time is running out.
It's my fault — I got nostalgic and decided I wanted to go to the Bath Christmas Market. It's probably the last time I'll see Bath for years — or ever — and told myself it's important to spend our last few weeks appreciating the little bits of magic about Britain, as well throwing ourselves headlong into the hard slog of moving. So, on Friday night, I announced to M that we would be heading up to Bath for a few hours on Saturday, and spend a bit of family time wandering around the market in the crisp air and the shadow of the Abbey. Bless him, he understood and, against his better judgment, he agreed.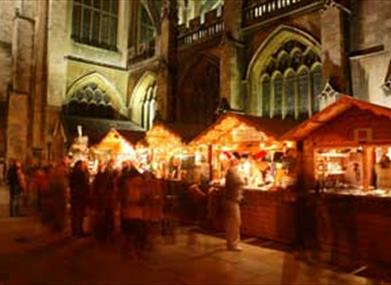 Saturday broke cold and clear, with a blue sky and a real nip in the air. Perfect. I sacrificed a much needed extra couple of hours' sleep in order to get on our way at a reasonable hour (not as early as M would have liked, but I will never get out of the house as early as M would like). We fed and dressed the girls, and then packed lunches and milk bottles, and extra nappies, and stowed the pushchair in the boot. We put on socks and shoes and coats and reins. Nothing is quick or spontaneous with two little people to take into account…
It takes about an hour to get to Bath and, as we got nearer, the colour of sky on the horizon changed, growing darker and more menacing. It was turning quickly from the kind of beautiful clear day that makes winters beautiful to the kind of dull grey day that make winters miserable.
The sky was leaden by the time we reached the city and all the cars — miles and miles of them at a standstill — had their headlights on in the middle of the afternoon. Bath is a beautiful city for Christmas shopping — and everyone had had the same idea as we had. We inched toward the carpark… It was so full that other cars had staked out their places in the corner of each row to sit and wait for the next car to leave. We left and joined the traffic inching its way to the next carpark, but it was the same. When we finally reached the entrance of the last carpark, the heavens opened and rain hit the roof of the car so forcefully that it woke both girls up with a start. Within minutes, it had turned to hail.
What was the point? A Christmas market in a storm was not going to be fun, so we did a three point turn and left the slow queue of cars inching into the carpark. We'd been driving around the city for the best part of an hour now.
M suggested we go and see his mother instead. A reviving cup of tea, a nice ham roll, and she could see the children. Her house is on the way home, so long as you take the out-of-the-way route, so that is the way we headed.
When we got to her house, she wasn't home, which was unusual. M tried her mobile, but no answer. If she'd gone shopping, it would be with his sister, so he tried her mobile but got no answer on that either. Very unusual. What to do? We needed to get these kids fed, and E2 had figured out where we were and begun yelling, "Nanny! Nanny! Go see Nanny please!" We looked at each other in frustration: all we could do was go home. We got back in the car and headed back. When we arrived back at our house, we'd been gone 3 hours, burned probably £10 in petrol, and achieved… nothing. But M is wonderful and he turned to me and said, "Hey, let's try again tomorrow."
He spoke to his mother later that evening. Guess where she'd been while we were sitting outside her house? Bath Christmas Market.
So, even though good sense tells us we'd had our chance and should now just get on with organising this move, the plan was to try again today. But I woke up this morning feeling rotten and feverish. Whatever it is is just sitting in my chest and telling me not to do too much or I'll be paying for it all week to come. So I have succumbed and have spent the day resting. M has had to take over my jobs and so has been busy with baby-duties pretty much all day. No Bath, no Market. No packing, no sorting, no chucking things out either. A whole weekend gone and no progress made. I know we helped to fashion a rod for our backs this weekend, but in a way, I'm glad we tried. Life is made up of the little frivolities as well as hard work. But perhaps it is now time to focus on the hard work: there is an enormous amount to do and not much time. How will we ever get it all done?